Tennis is the Great Game and one of the most popular and most played sports around the world. There are currently four major tennis tournaments, also named Grand Slams namely:  Australian Open tennis tournament which is the Grand Slam of Asia/Pacific, the French Open, US Open and Wimbledon. They are considered as the prestigious events in the tennis calendar and watched by millions across the globe.
Do you know how this sport got its name? Well, the word tennis came from Tinnis, an Egyptian town found next to Nile while the term racquet was from rahat, an Arabic word that means palm of the hand. Some suppose that the early Greeks, Egyptians and Romans are the pioneered tennis because of these terms that are from their time. However, there has been no more concrete evidence that can support this idea. History experts strongly believe that it was in the 11th and 12th century that tennis has begun.
The game is commonly played outside and as the game become more well-liked, covered courts started to came into being still against the walls. They later found out that it's inconvenient to use their hands, they started to use gloves. Then a handle with webbing fixed to it was developed, basically a racquet. From using a ball from a bundle of hair, it has changed into something like a baseball ball.
In late 1800's and 1900's, male tennis players were dressed in trousers and shirts that have long sleeve while dress that are ankle length for women. But nowadays, they put on more comfortable and relaxing clothes. For the entire history of tennis, there are only five who won The Grand Slam which means to have 4 winning on different events in just a year. The first is Don Budge in the year 1938, Maureen Connolly in 1953, Rod Laver in 1962 and 1969, Margaret Court in 1970, and  Steffi Graf in 1988.
Tennis is popular in many countries such as United States, India, Germany, France, United Kingdom, Canada, Australia, Italy, Sweden, Switzerland, South Africa, Belgium and a lot more. The top players that had established a name in this field are Roger Federer with 16 Slam titles, Pete Sampras with 14 Slam titles, Rod Laver with 11 Slam titles, Andre Agassi with 8 Slam titles and Rafael Nadal with 9 Slam titles.
Buy Kenko Soft Tennis Starter Kit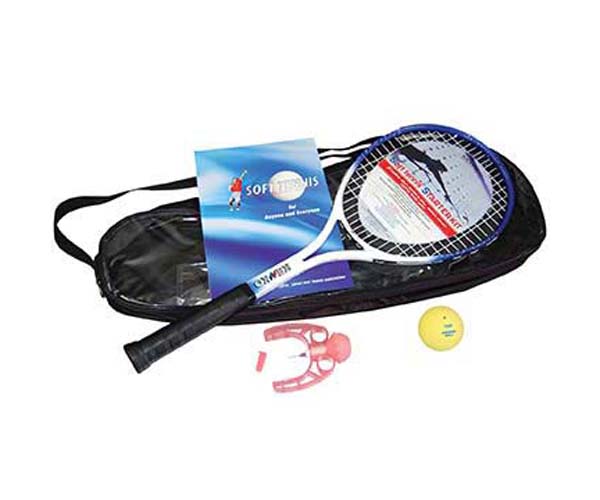 Here is the list tennis players who had so far received the highest payments:
Roger Federer- $41.8 million
Maria Sharapova- $26 million
Rafael Nadal- $18 million
Andy Roddick-$15 million
Venus Williams-$15 million
Serena Williams-$15 million
Justine Henen-$10 million
Novak Djokovic- $9.5 million
Ana Ivanovic-$8 million
James Blake- $7.5 million
Related Article: Djokovic Wins Australian Open Title